Welcome to the Pine Tree District FIRST Robotics Competition
Maine's Official FIRST Robotics Qualifying Event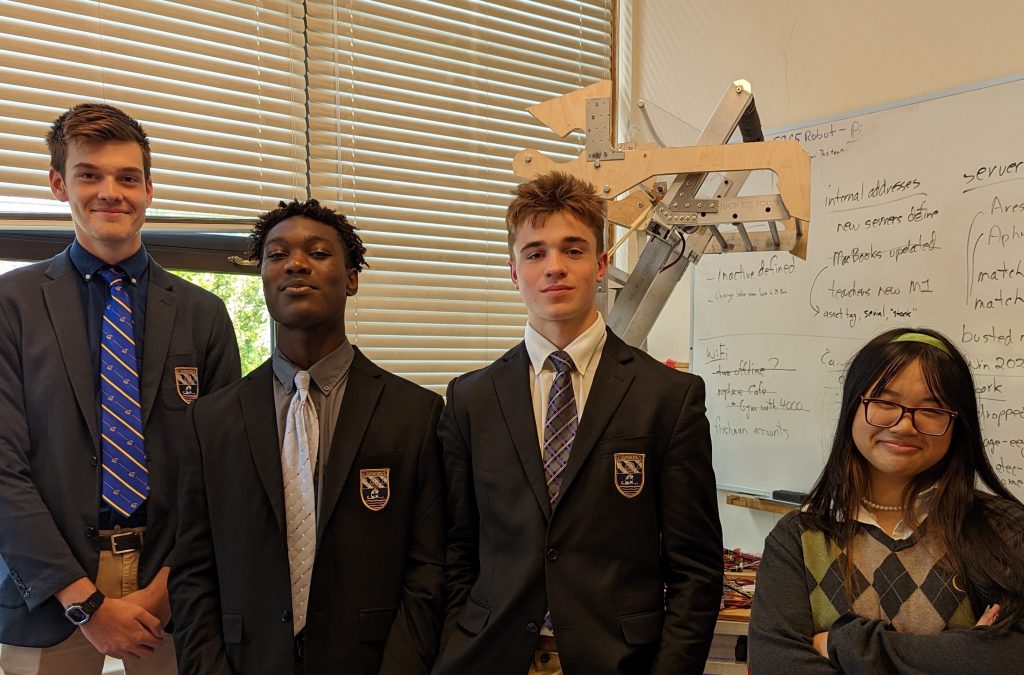 Meet Radical Impact, one of Pine Tree's celebrated teams
In their own words, Team 5265 tells the story of their team.
"Radical Impact is a small team, there are only a handful of members. If I had to describe us in one word, it would be resilient. Like many FIRST teams, we don't give up. We try hard and do our best, putting in all of our being. In FIRST that's what matters. During my time on the team, we've faced a lot of challenges, but we adapt and overcome them. We have limited resources but we make do time and time again. Always improving."
"This past season was huge for our team. We made massive advancements as a team. For one, we made a robot with a working arm! A first in our team's history. We learned what was best for us and what our limitations were. Now we will continue to work on growing and improving."
"FIRST is more than just a competition, it's about making a better tomorrow. One of Cheverus's core values is being "people for and with others." We do what we can to contribute to the FIRST community and to continue the tradition of "Gracious Professionalism". We look forward to this coming season and wish everyone the best of luck!"
---
Meet the Blue Crew, another Pine Tree celebrated team
In their own words, the Blue Crew tells the story of their team.
"In the summer of 2015, a senior at Mt. Blue High School met some students who were a part of a FIRST robotics team in a neighboring school district. Inspired, he gathered a group of friends together and went to an off season meet, Mainely Spirit, hosted by team 2648. After seeing FIRST robotics in action, the five of them were hooked. Over the next few weeks, they created a budget and pitched it to the school's computer technology teacher, who agreed to be the team's mentor. Word spread throughout the school, and now Blue Crew has fourteen members and three mentors."
"Blue Crew will be based at the Mt. Blue Campus, and will have access to Foster Career and Technical Education Center's vocational education facilities. This gives our team a distinct advantage: at our school we have access to a state-of-the-art composites manufacturing facility, various welding and machine shop tools, multiple 3D printers and a CNC machine, as well as complete access to the Robotics classroom."
"What makes Blue Crew different from other teams is how it was founded. While many teams are created by a school as an effort to increase STEM curriculum, Blue Crew is completely student driven, and has been from the beginning. Students organized the visit to an off-season meet. Students created a budget and sought mentors. While we do have mentors that are instrumental in the success of our team, as well as the education of our members, Blue Crew takes FIRST's mission to create leaders one step further."
Every team that competes at Pine Tree is a celebrated team. All Pine Tree teams are invited to send their story for publication here. Email a story and a photo to info@pinetreedistrict.org